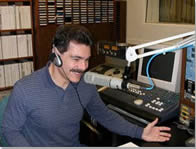 Listen live to "The Doctor Is In" Ave Maria Radio or on SiriusXM satellite radio, channel 130. 1:00-2:00 PM, EST., Tues.-Thurs.Call 1-877-573-7825 during the show.
Dr. Ray is carried on EWTN Radio, available through Sky Angel. EWTN Radio is heard on IPTV channel 233.
Many of you would like to participate in the call in programs, even though you're not currently within the range of any of our stations. You have two options: One, you can move to a city with an affiliate; or two, you can call the toll free numbers listed to the left during the shows. You can remain anonymous if you wish. Just let our call screener know your preference.
You can find archived broadcasts at the following site:
"The Doctor Is In" Ave Maria Radio
Listen to Dr. Ray's "Man"ologues from "The Doctor Is In" Radio Broadcasts